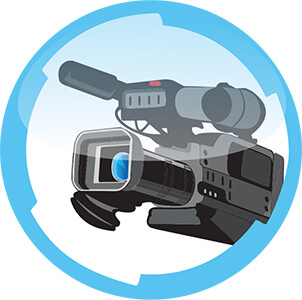 View Work Video | Radio | Motion Graphics
At REJ, we understand the nature of branding and story telling in ways that educate, inform, entertain and market our customers' products and services. Our team believes the key to production success is collaboration, planning properly and ensuring that the body of work meets or exceeds client specifications as well as our own exacting standards.
"REJ creates engaging visuals, content and strategies that connect you with your audience."
Since 1991, REJ has produced, written, directed and edited hundreds of video, film, web, and radio projects and has never missed a deadline. As a full service production company, REJ is responsible for all aspects of pre-production, production, and post production. This includes creative development; production scheduling, planning, and coordination; contracting of personnel; location scouting; casting/talent auditions; writing; set and art design; music composition, acquisition, or recording; budget management; all logistical details [wardrobe, permits, insurance, etc.]; sound design; graphics; voice over recording; editing; dubbing and trafficking; and media placement, planning, and buying.
The REJ Process
Pre-Production:
Client meeting to review objectives
Creative development/research
Client review/approve creative
Develop calendar and budget with technical and creative needs
Client approval
Assign resources
Scout Locations
Cast talent
Client review/approvals
Secure locations, talent, permits, etc.
Draft or secure releases
Develop detailed production plan
Production meeting for client review/approvals
Production:
Shoot video or record radio on location or in studio
Post-Production:
Review, log and transcribe all footage
Write and or revise script
Determine graphic and audio needs
Client review/approvals
Create graphics, SFX and edit rough cut
Client review
Revisions to rough cut
Client review
Final voice over record and mix
Final client approval
Master, captioning and duplicate/distribute
Production report (contracts, releases, etc.) to client