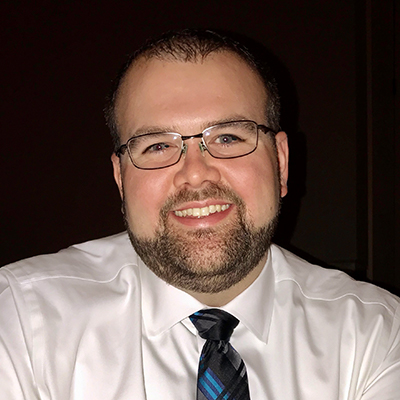 Trey is a technical whiz and creative thinker with more than fifteen years of editing, producing, production and audiovisual management experience at REJ. As the VP/Director of Production Trey handles every aspect of project management, including creative oversight and assists with business development, account management and employee benefits/HR. Trey interfaces with customers to ensure that their objectives are met and is responsible for putting together budgets, production calendars, production plans, and personnel management. Trey provides technical and creative production oversight, provides art direction for graphics and animation production and is responsible for ensuring that quality control measures are adhered to.
Trey is a certified AFPIMS site manager and is knowledgeable of HTML, CSS, JavaScript and expert at WCAG Web Standards and Optimizations such as JAWS, WAVE and Color Contrast Analyzer. Trey is highly proficient in project management software that includes JIRA, Confluence, Monday.com, SmartSheets, Basecamp, Slack and Trello as well as SCRUM and agile methodologies.
Trey is also proficient in non-linear editing, graphics systems, software applications, still photography, HD video production, webcast production and has experience as an art director, print production manager, broadcast production manager and agency producer.
His career includes stints with Ripken Professional Baseball, the Aberdeen IronBirds, WJZ-TV 13 and WBAL-TV 11. Trey is a graduate of Stevenson University and lives in Howard County with his two labs – Reese & Raider. In his time off, he can usually be found in one of four places – at home "horsing around"; out relaxing with friends; at church – offering technical/creative gifts to God; or at his "happy place" – Deep Creek Lake, where he enjoys boating in the summer, amazing scenery in the fall and snowmobiling in the winter!